Post by 314clipper on Aug 15, 2006 0:35:26 GMT -5
I just want to say thanks again for all the interest expressed in these old photos. It's great to read all the remarks and observations, and to see how many others share an appreciation for the Golden Age of Aviation. Leyland and Bruce, to answer your question, I would certainly like to find an internet home for this little collection at some point. I don't have the foggiest idea how to set up a web page, but I will look into that as well as some other options. It's nice when stuff like this is available for all to enjoy, and posting them here has provided at least a temporary solution (thanks to Tom Constantine for hosting this website!). Except for a few more pics to follow, the remainder of the photos are mostly aerial shots of old DLH destination cities (not airfields) from the 1930s. Some may not look much different than today, and most would probably be of little or no use to a scenery designer. There are too many to post all of them, but if you have a particular interest in one of these cities (see list below), let me know.
Thanks,
Wayne
;D
--------------------------------------------------------------------------------
Alps (misc photos of mountains)
Andes (1 photo of mountains)
Belgium:
Brussels
Brazil:
Bahia
Rio de Janeiro
Bulgaria:
Sofia
Czech Republic:
Kuttenberg, Tschechoslovakei (Kathedrale St. Barbara)
Denmark:
Alsen (1934)
Christiansborg
Copenhagen
Sjorup
Finland:
Helsinki
Germany:
Bacharach (1934)
Berlin (Ost-West-Achse, May 1939)
Braunschweig (1940)
Bremen (1934)
Brunshaupten (1934)
Edenkoben
Flensburg (1933, 1934)
Frankfurt (1934, 1936)
Friedrichshafen (1933)
Freiburg
Gelsenkirchen (1933)
Gera (1933)
Giessen (1933)
Göhren, Isle of Rügen (1934)
Hildesheim (1940)
Königssee (1933)
Köln (1934)
Landsberg am Lech (1934)
Langendiebach (several postcards)
Leipzig (1933)
Magdeburg (1933)
Mainz (1933)
Marienburg?
Meissen (1933)
Merseburg (1933)
Mittenwald-Karwendel (1933)
München (1933, 1934)
Münster (1934)
Niederwald Denkmal, Rudesheim (1934)
Porta Westfalica (1934)
Pottenstein (1933)
Rudesheim (1936)
Saarburg (1934)
Schloss Ehrenfels (1934)
Schloss Marksburg (1933, 1934)
Schloss Herrenchiemsee (1934)
Schloss Sanssouci, Potsdam (1934)
Schloss Schönburg (1934)
Schloss Teck (1933)
Schloss Wartburg (1933)
St. Peter-Ording (1933)
Starnberg (1933)
Stralsund (1940)
Stuttgart (1933)
Travemünde (1933)
Walchen und Kochensee (1933)
Worms (1934)
Würzburg (1934)
Greece:
Athens
Italy:
Mailand (Milan)
Rom (Rome)
Venedig (Venice)
Latvia:
Riga
Morocco:
postcard of Port Lyautey
Netherlands:
Hillegersberg
Woerden
Windmills and Kinderbleep
Norway:
Lighthouse between Oslo and Bergen
Poland (all pics dated 1933-1935):
Bad Flinsberg
Beuthen
Breslau
Danzig (Alte Speicher)
Stettin
Russia:
Konigsberg
Sweden:
Stockholm
Here are a few samples:
Salzburg, Austria, April 1938
Schloss Teck, Germany, 1933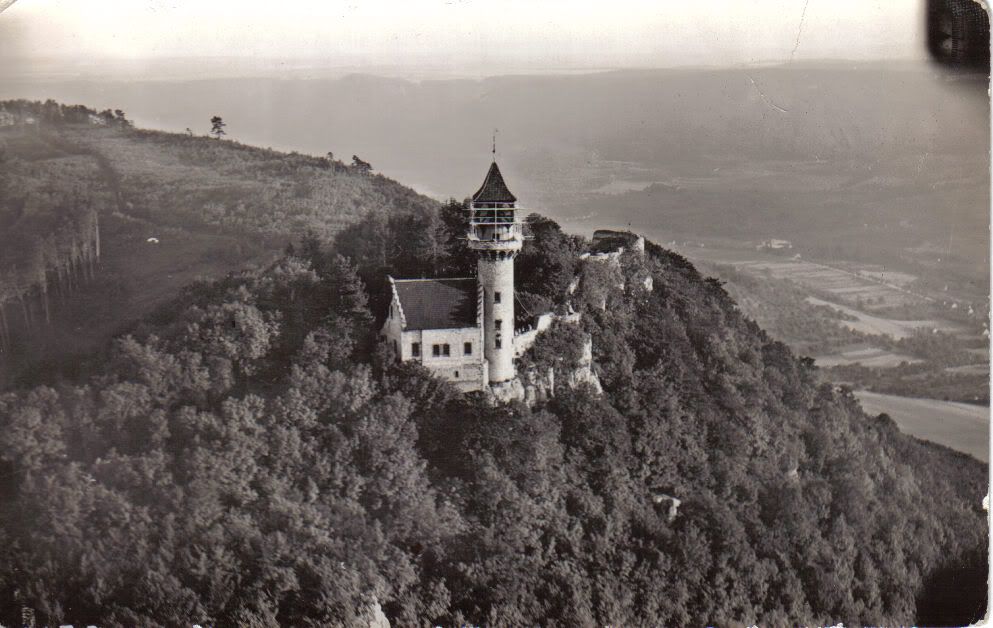 Friedrichshafen, Germany, 1933